Bunkhouse Class C Motorhome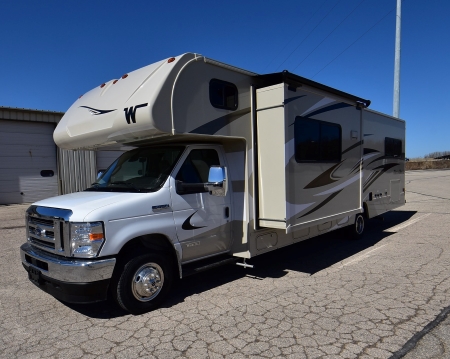 Details
Length:  Approx 31 feet
Sleeps:  8-10
Features:  2 slideouts, 2 queen beds, twin bunk beds, 2 double beds (at dinette and sofa)
Rates
$1,925 per week (7 days)
$295/additional day
$.31 per mile
$1,000 reservation deposit
Minimum 1 week plus 500 miles required
* Awning not for rental use
*Insurance, Coachnet Roadside Assistance, Generator usage included in price*
Book early!! Our rental RVs book up to 6 months in advance so reserve soon!
---
Be sure to check our entire selection of RV rentals at Wisconsin RV World, located in Madison, Wisconsin near Milwaukee, WI
---
Rental Policies
Reservations:
Minimum of 1 week prior to departure date required for consideration. Rental RVs may be picked up by appointment Monday through Friday, excluding holidays. Minimum rental charge is one week plus 500 miles.
Reservation Deposit:
At the time a reservation is made, a $1,000.00 deposit is required (this may be paid by cash, personal check, Visa or Mastercard). Deposits are in addition to the total charges and refundable upon return of the rental after a reconciliation of mileage, fuel, cleaning, and any damage.
Payment Terms:
At the time you pick up your RV rental, all advance charges (shown on the rental agreement) are due, including the rental charge, estimated mileage and tax. PAYMENT MUST BE MADE BY CASHIER'S CHECK, CASH, VISA or MASTERCARD; personal checks are NOT accepted.
Cancellation Policy:
Cancellation prior to 60 days of departure will receive a half deposit refund. Any cancellation within 60 days of departure will forfeit the entire deposit.
Insurance:
Rental Insurance is provided at no additional charge. There is a $1,000 deductible on collision and comprehensive which you are responsible for. Interior, overhead, and undercarriage damage is not covered by our insurance, and is the sole responsibility of the renter. In the event of an accident, renter agrees to notify Eagan Rentals, Inc. within 24 hours. A full written police accident report must be submitted to our management upon your return. Failure to comply will result in the forfeiture of your deposit.
Availability:
If, for any reason beyond the company's control the reserved vehicle is not available, the company reserves the right to substitute a vehicle of equivalent value or offer a higher rated vehicle at no extra cost to the renter. Should a lower rated vehicle be offered, the company's responsibility is to refund the cost difference between the two vehicles. If this is not satisfactory, liability will be limited to the refund of all monies paid.
In Case of Emergency:
Should a breakdown occur, you would automatically be reimbursed up to $50. Amounts over $50 must be authorized by calling our office. All invoices, receipts, and old parts must be returned to Eagan Rentals, Inc. for proper credit. If repair is due to misuse of vehicle, renter is liable for all expenses. Roadside assistance available (charges may apply for calls). Defects on radio/CD/DVD/TV, generator, a/c, refrigerator, microwave, cruise control, slide-out malfunction, etc. are not mechanical breakdowns and are not considered for refund.
Fuel:
Customers provide all fuel. For your convenience fuel will be filled at departure and needs to be filled prior to return to avoid fees.
Other expenses:
Renter pays for all tolls, parking & traffic tickets, campground fees and other expenses
Vehicle Departure and Check-out:
Operating hours for processing vehicles are by appointment, 9:00am to 3:00pm Monday through Friday. We will schedule your arrival and departure at the time of reservation. Allow 1 to 2 hours to become acquainted with the operation and special features of the vehicle during the demonstration with our staff.
Vehicle Return and Check-In:
Vehicle must be returned at time shown on rental agreement. A late fee of $40 per hour will be charged for each hour the vehicle is overdue. Remember, the next family is waiting to start their vacation; therefore, late returns are not tolerated. RVs returned on weekends or holidays will not be checked in until the following regular business day. Renter is liable for the RV until check in.
Upon your return, we will jointly inspect the vehicle for damages and general condition if returned on a regular business day. Interior is to be cleaned by renter (return it just as clean as when you picked it up) and all personal belongings must be removed. Gas tank must be full; LP tanks must be full; holding tanks must be evacuated
After reconciliation of mileage, fuel, cleaning, and any damage, we will process your deposit refund for return. If additional charges are due beyond the amount of the deposit, the balance will be billed to the renter and are due within 7 days of receipt of the bill. Deposits are normally processed within 7 business days of return.
Additional charges deducted from reservation deposit may include the following:
(These are standard)… $.31/mile over estimated mileage paid; LP tank filled at current fuel pricing
(These are not standard)…$1,000 insurance deductible for damage due to an accident; Gas to fill fuel tank plus $20 fee for refueling $20 holding tank evacuation fee; $40/hour late return charge; $40/hour cleaning charge .
Minimum Age to rent or Drive is 25: Must have an acceptable driving record and valid U.S. Driver's License.
NO Rentals to Mexico
NO TOWING allowed on rental units
SMOKING POLICY No Smoking is permitted in rental units. Violation will result in cleaning fee from professional company ($500 minimum charge)
PETS POLICY No pets are permitted in rental units. Violation will result in cleaning fee from professional company ($800 minimum charge)